The B59, that's the 16-story office building that accommodates the headquarters of Xceptance Germany, now has a new addition to its front. The red and black neon writing with Xceptance's name and signature X was put up a week ago and thereby joins the logotypes of the Postbank and Allianz insurance.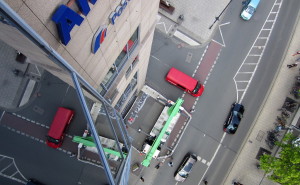 The workers who installed the sign definitely had to be free from giddiness, since the sign overlooks the city of Jena from a height of approximately 98 ft. (30m). Several curious bystanders watched the installation process and were able to witness how, piece by piece, the name emerged on the wall.
So now, three years after Xceptance moved to the B59 office space, our flag is finally set. We think it's been worth the wait!